its just a picture i dont get it

Let your imagination fly.

A game where you can play an evolved chimp, gorilla, or orangutan.
All done at a narrative level
A game focused on exploration and survival.
A game set after the dawn of the apes where pocket groups of humans still exists and struggle and more often than not pose a threat to your community.

It's just something to toy with in your mind, that's all.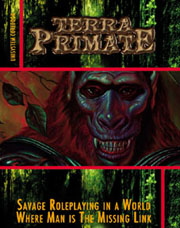 Gentlemen and ladies I refer you to this Gem from Eden Studios put out back on 2002.  Terra Primate